New features on HomeExchange Collection
Discover the new features developed exclusively for the HomeExchange Collection community and how to use them step-by-step. The platform will continue to evolve, and new features will continue to be added. We will keep you informed as they become available.
In the meantime, we wanted to share with you the newly available features that you can enjoy from now on.
1. A filter in the search to see only Collection homes
To access this feature, make a search and among the filters, click on "HomeExchange Collection homes".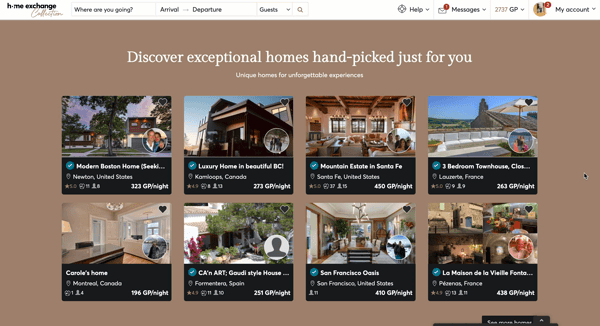 2. The option to hide your Collection listing from non-collection members
To access this feature, go to your listing (put your mouse over 'My account' in the top right corner and click on 'My home' in the drop-down menu), scroll down to reach 'Contact preferences' and beside 'Collection members only', switch the toggle to 'Yes'.
3. The option to hide your listing from search engines
Go to your listing and scroll down to 'Privacy' and beside 'Make your home inaccessible by search engines', switch the toggle to 'Yes'.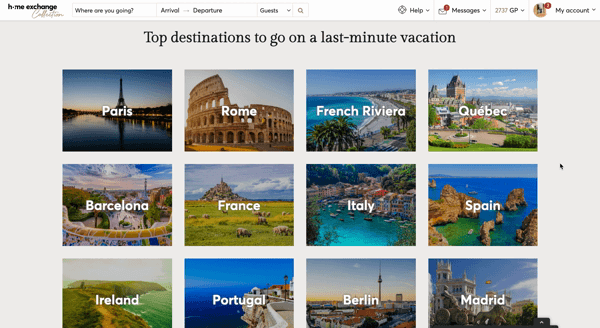 4. The value of your home in GuestPoints will automatically increase by 50%
For example, if the GuestPoints value of your home was 200, it will now be 300 and this value will be the same for both HomeExchange Collection members and regular HomeExchange members.
5. A GuestPoint bonus of +1250
If you require any clarification, further guidance with these new features, or assistance with anything else at all, our trusted support team is here to help. Set up a call by clicking on this link and someone from our team will contact you to answer any of your questions.
We would be happy to have your feedback on the platform and to know how we can improve so do not hesitate to reach out to us at joincollection@homeexchange.com.