Many things are changing in our main office's part of the world (Europe), but our team spirit remains high! In the past month, our product and dev team have been working hard (as they always do) to bring to you more features to make it easier for you to organize exchanges. It might be awhile before we're all able to travel safely and freely again, but nothing can stop us from dreaming and planning it in the meantime!
Dream of your next exchange
What's been released?
1. Types of guests filter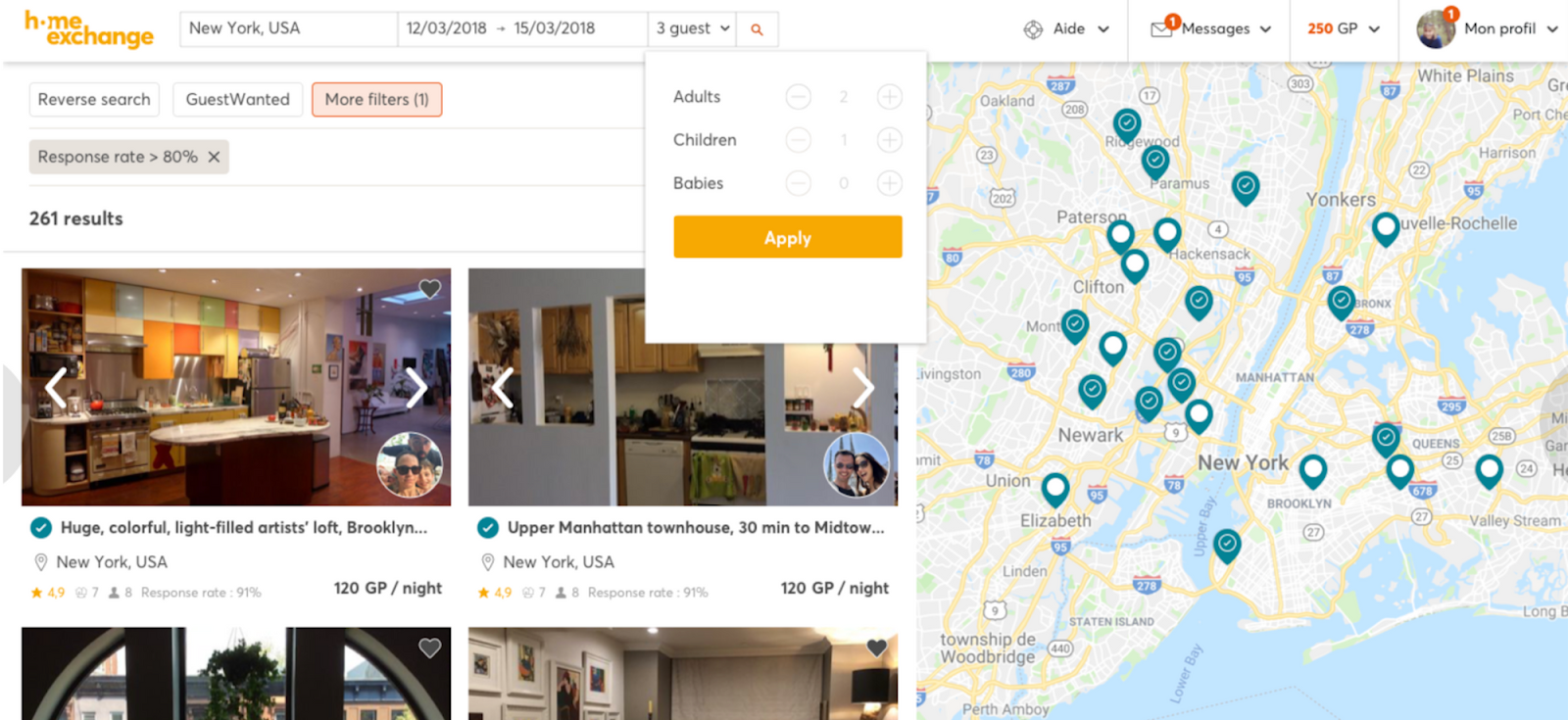 We shared in our September updates blog article that we were working on this filter, based on the poll results from our Facebook groups a few months ago. With this filter, you will be able to specify the number of adult, child and baby travelers when you make a search. The search results will give you homes with beds that will correspond to the number of adults, children and babies in your traveling group.

For example, previously a listing with a double bed and a baby crib will appear in the search results for someone who is looking for a home that can accommodate three adults. With this new filter, this listing will appear in the search results for someone who is looking for accommodation for maximum two adults and with or without one baby.
2. Test restricting members who don't have their homes more than 80% completed
As we shared in our September updates blog article, we wanted to run a test on part of our community to prevent members who do not have a home completed to >80% from accessing and viewing the photos of other members' homes. The objective was to encourage members with incomplete listings to complete them and to understand that they need to have a home online if they wish to engage with the community.
We launched this test toward the end of October and at the moment, the results are looking positive (we're seeing that more members are completing their homes to more than 80%) but we'll continue to monitor the test results for a few more weeks before deciding our next steps.
3. Making the "Update results" button more visible on the map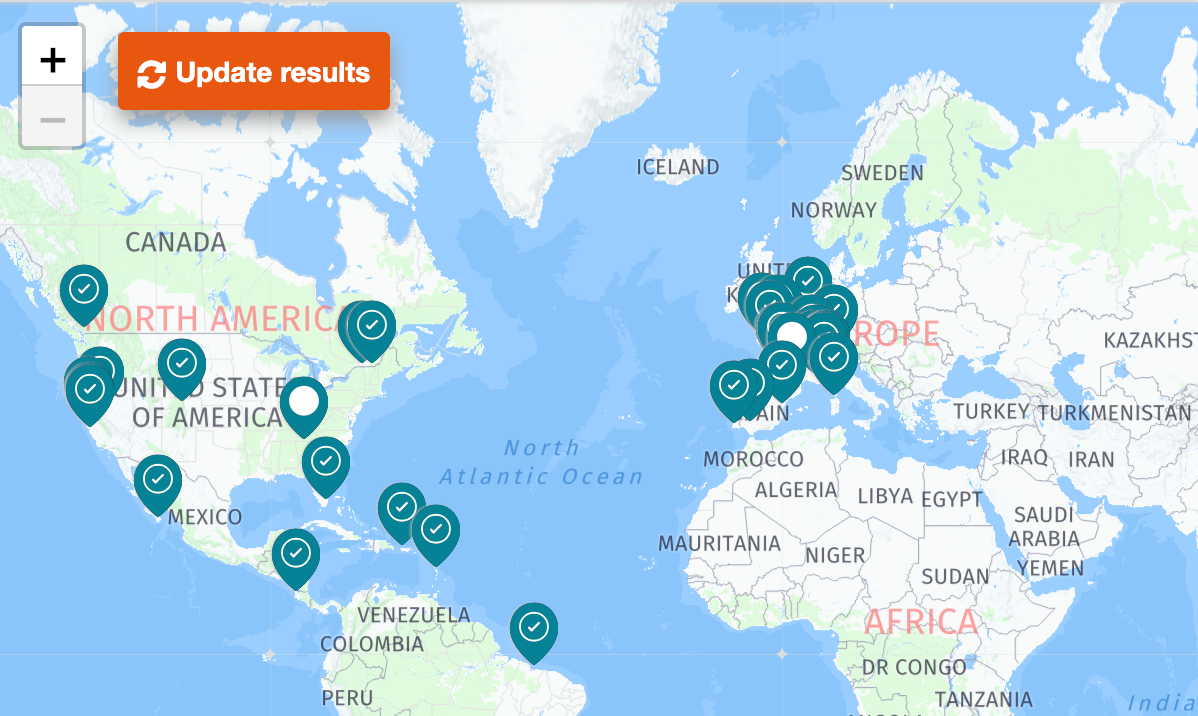 We noticed many members who were adjusting the map in the search results (expanding or decreasing the map coverage or adjusting it to a specific area) did not click on the "Update results" button to get the new search results. This was probably because the button was more inconspicuous and it can make searching for an exchange frustrating as you won't get the results you want.
So we improved the design to make the button more visible so that more people know they have to click on the button to get the new results, which could make it easier for them to arrange their exchanges.
4. Tips to help you find an exchange when you get zero results on a search
We know that we're all in need of a vacation and we want to make it easier for you! So when you're making a search and there are no homes that match your requirements, you'll now get some tips to help you find an exchange.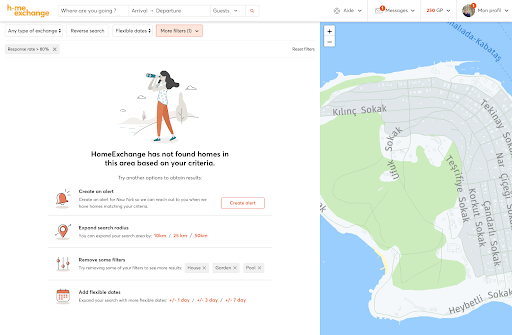 5. More relevant email alert results
You can save your preferred destinations and receive email alerts each time a new home matching your search requirements is added (it's the perfect time to start working on this for the Christmas vacation!). We have added more filters to be taken into account for the email alerts that you receive.

All the homes you receive in the email alerts now take into consideration these filters if you've selected them in your search:

- destination
- dates
- guests
- accessibility (children/pets/ smokers/disabled)
- number of bedrooms/bathrooms
- no put up beds
- homes with pictures
- response rate
- flexible dates (available only on the web)
- verified homes
- homes with pictures

You can add your preferred destinations when making a search
Or by clicking on the section "My preferred destinations" in the dropdown menu in the top right hand corner of the website.
Something else we're working on
This is something we've started to work on that we wanted to share with you! Everything takes time to develop, but this is something we're making progress with that you can look forward to seeing on the platform.
Suggestions of similar homes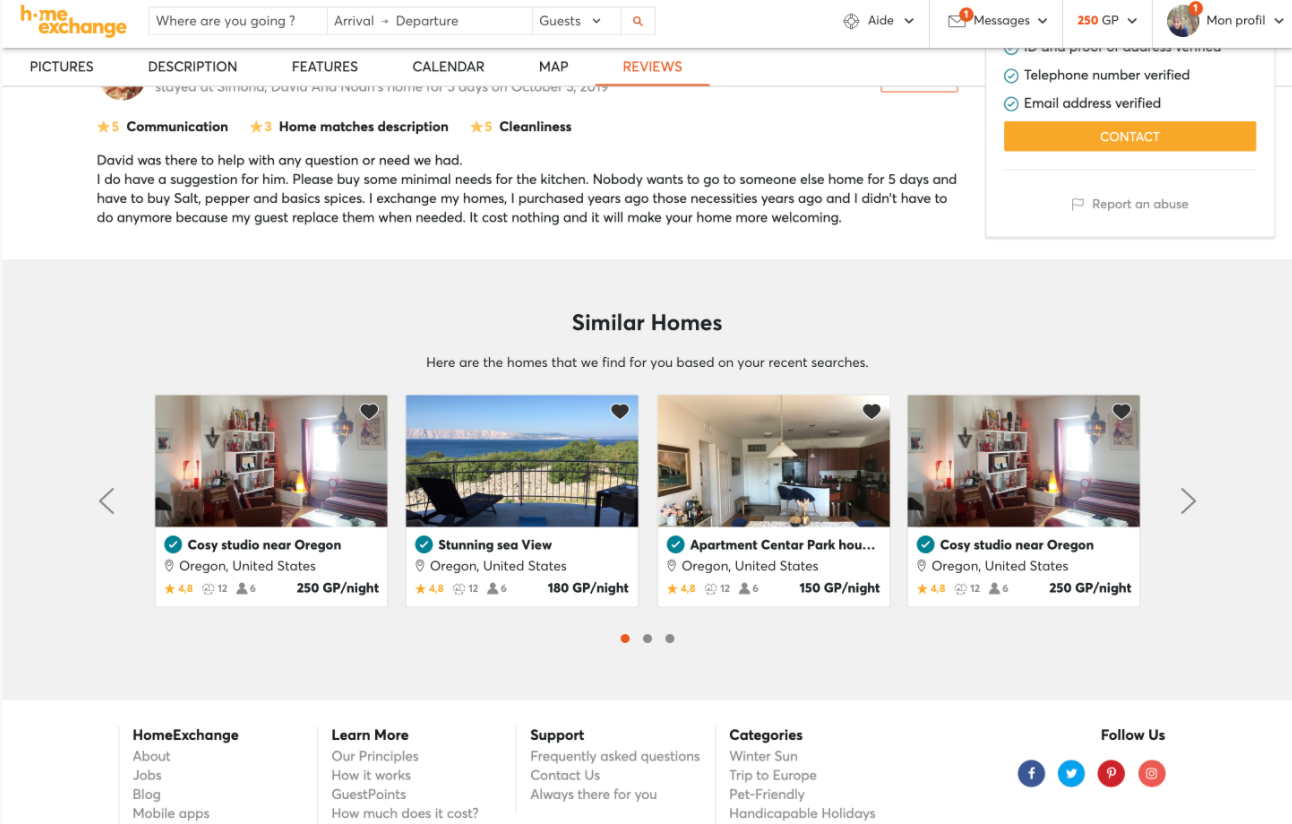 We want to make it easier for you to find the exchange of your dreams and go on vacation when it's possible for us to travel safely again, so we're working on a feature that will suggest similar homes to the listing you're viewing.
We hope this makes it easier for you when you're looking for an exchange!
You can find a full list of our October releases here. Of course, we're working on a few other projects that we'll need to advance a bit more on before sharing them with you!

We're always open and happy to hear your suggestions about how we can improve the platform, so don't hesitate to send them to our member support team at contact@homeexchange.com.
Join our Facebook groups so you can find out first when we make updates to our site and to share your opinions and experiences with the rest of the community!

Plan your next vacation