HomeExchange is celebrating its 30th anniversary this year, making this the perfect occasion to take a look at the archives of the site and the history of home exchange, but also to thank and highlight our community.  HomeExchange is above all a human adventure: so our story is the adventures of our members, who are convinced that home exchange is the best way to travel.
Access to HomeExchange
We have retraced  some of the major stages in our history over the past 30 years just for you, as told by our members, without forgetting through pictures  the evolution of the site since its creation!


The Early Days and Paper Catalogs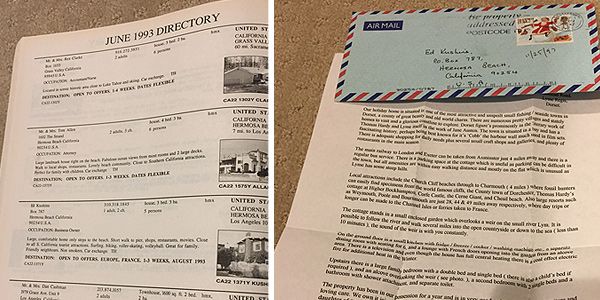 In the early days of home exchange, the pioneers (mainly teachers at the very beginning) used paper catalogs! Their ads were published once or twice a year and sent by mail. Contact was then made by phone or mail!
"We started in 1996 and never stopped. At that time it was with Teacher Exchanges, which later joined HomeExchange: black and white paper catalog, each ad  limited to a small rectangle with name, address, country, small drawings for the number of rooms, beds etc. and 2 short lines of commentary. There were mostly British,  American, and French locations, with few other destinations, but that was enough to make great exchanges. We contacted each other by mail, sending photos and the tourist office's documentation. Then we phoned each other. We remain convinced by the exchange formula and hope to do many more for a long time!"
Pascale
"We made our first exchange in 1997, before the Internet, 5 weeks in California. We had our listing published in the yearly catalog and sent a few letters (via regular "snail" mail), then a few printed pictures to the people who replied. Of course, we welcomed  the arrival of the digital version of the catalog with joy. We've never really stopped exchanging because not only do we save a lot of money, but we just love this way of traveling!"
Brigitte

"We have been exchanging houses for 25 years, more than 160 times, in Europe, America, Asia and Oceania, but also in nearby places. It is a fantastic comfort to feel at home in any corner of the world and to know, in addition to landscapes and monuments, how they manage the garbage, the local  stores, and  the dynamics of the neighborhood..... We started by consulting paper catalogs to choose our destination, then contacting hosts by letter and telephone. Now everything is faster, but the ambiance is the same. A wonderful way to travel."
Amaia
The HomeExchange.com website through the years
"I remember seeing home exchange classifieds on a union periodical when I first started teaching. It took me a while to get into it... I had to run into a swapper who convinced me, and by then we had been on the Internet for a while!"
Valérie
And the website has evolved since its beginnings! Thanks to web.archive.org, we were able to trace the history of the site since 1998... We let you discover all that!
Se connecter à HomeExchange
HomeExchange and The Holiday
In 2006, Nancy Meyers directed The Holiday, a romantic comedy in which Amanda, an American (played by Cameron Diaz) exchanges her huge Hollywood villa with Iris, an English woman (played by Kate Winslet), via... the HomeExchange website! This hit became a turning point in the history of home exchange and HomeExchange, which has been featured for several years on the site, and which is still our pride!
"The news caused euphoria within the team, that Hollywood was interested in the idea of home exchange and HomeExchange in particular, it was crazy! The actors and actresses were known, we felt that it was going to create a buzz around the concept, and since the French version of the site had just been launched in 2006, we expected a boost thanks to the film. We were really proud of this visibility, and that the popular movie would help to make even more people discover home exchanging."
Christelle, member of the HomeExchange team since 2006

Even our members remember! Kristen and her daughter Corissa tell us about it (Don't hesitate to add subtitles to the video by clicking on the CC symbol) :
Learn more about the movie
The Invention of GuestPoints
In 2011, Emmanuel Arnaud invented GuestPoints to facilitate exchanges, and founded GuesttoGuest with Charles-Edouard Girard. In 2018, GuesttoGuest and HomeExchange joined forces under the name HomeExchange. HomeExchange members thus discovered GuestPoints, with a little reluctance at first, before mostly succumbing with appreciation for the flexibility they bring.
"We were quite reluctant when Guest Points were introduced, but we finally gave it a try, and we now love the flexibility GPs offer. We don't really see any difference with simultaneous exchanges, in the way we treat either our hosts or our guests, be it for reciprocal or GP exchanges. Of course, it takes a bit of time to organize an exchange, and we pay great attention to the profile of the members and the ratings and comments posted about previous exchanges. We don't necessarily reject new members though, but we like to organize a Zoom or WhatsApp meeting whenever possible. We are currently on a home exchange at a new member's house, and we couldn't be happier with it! Everything is perfect and in the real spirit of home exchanging, even though it is not reciprocal! We would not have been able to travel so often in wonderful homes all over the world without home exchanges (USA about 10 times, Canada 3 times, Thailand twice, Vietnam, Spain, Belgium, the Netherlands, and many exchanges in France too, where we live)."
Brigitte

"We started in 1992 until 2004 with Intervac, the dedicated teachers' catalog. I don't remember how I discovered HomeExchange, but the "non-reciprocal" or "non-simultaneous" exchange proposal and the GuestPoints system absolutely seduced me. For me it's the real freedom and the best of all travel options because I receive a lot of guests in the region or country I don't want to (or can't) go.  For example, the GuestPoints allow me to be welcomed in the high mountains during the summer in apartments of second homes  that their owners use for their ski vacations. The "Room in the house" option is also a great find,  because you can meet your hosts in total freedom and it's very useful for just one or two people (no big house to maintain). Long live the flexibility of HomeExchange!"
Ely
Learn about the GuestPoints
The Solidarity of the HomeExchange Community During the Covid-19 Pandemic
In 2020, the Covid-19 pandemic shook the world. Despite the confinements and restrictions, the HomeExchange community once again demonstrated its caring and ability to share (within the restrictions).
"Covid-19 caught up with us during our world tour. Having just arrived in Chile via Argentina, we wanted to quickly  find a place to live  in view of the upcoming confinement. First reflex: look for a roof thanks to the HomeExchange application on the island of Chiloé. A big thank you to Maria for her help and her welcome. After a few adventures, we were able to stay for a month in her beautiful house, a real cocoon. Thanks again to the HomeExchange community who offered us a home in this complicated context."
Solen

"I find that I no longer take the freedom of exploring and traveling whenever I want to for granted. One of the (few) good outcomes of the horrible pandemic is for me that I see life through slightly different eyes. Even if I by no stretch was unappreciative before 2020, I now truly understand how absolutely privileged I am to be able to move around freely, meeting people and exploring new places. We finalized our exchange almost three years ago, but because of the pandemic it took two years of postponing before we could go through exchanging our Swedish home with Stefan and Christiane in Switzerland. We have had an absolutely wonderful week exploring Solothurn, Bern and the Swiss Alps and surrounding lakes! One of our best holidays ever, all because of the ability to swap our home for another family's home! I love Homeexchange and I am so thankful for the opportunities we get. Thank you to each and every one of you who shares your home to enrich others!"
Angela
Read more stories
HomeExchange Today
Today, we no longer have a paper catalog but a website and a mobile app. Our members no longer communicate by mail but through our online messaging system, whatsapp or video calls. We have gone from a handful of countries to over 150, from a few organized exchanges per year to one finalized exchange every two minutes.
But what hasn't changed in 30 years is our vision. We have always been  committed to making travel more accessible to all.  But not just any travel: a more responsible and more human tourism, which claims respect and benevolence.
Learn more
And whether they have been exchanging for 30 years, 10 years or 2 months, our members all share our conviction: home exchange is the best way to travel.
"Sharing values in this community make every trip an unforgettable memory as a local and not a typical tourist"
Nieves

"I found HomeExchange in 2014 through a colleague who was going all over Europe and beyond. Since then, we have become convinced of the system. I love getting original proposals, to destinations we wouldn't have thought of. We now only travel like this and we leave home much more than before: every vacation and some weekends. I hope to be able to continue for a long time because I don't think of traveling any way other than a home exchange."
Loreena

Discover HomeExchange