Everyone has the right to go on vacation. But for people with reduced mobility, the planning and prepping for a trip are often discouraging. The most complicated part, almost always, seems to be finding an adapted accommodation.
What if you let yourself be seduced by home exchange? HomeExchange is dedicated to making it possible for everyone to go on vacation, and offers disability-friendly accommodations. Members of the community with disabilities have agreed to answer our questions, and have given us their valuable testimonials about their home exchange vacation experiences.
What exactly is home exchange?
The difficulty of organizing a vacation for a person with reduced mobility
Whether your disability is permanent or temporary, it's almost impossible to go on vacation unannounced.
People with motor disabilities and/or in wheelchairs have a hard time finding truly adapted accommodations in the various types of traditional lodging offered, both in terms of accessibility and rates!
There are now vacation booking platforms dedicated to people with disabilities, as well as tools and measures to facilitate accessibility (Tourism and Disability Label, guides to adapted sites, beach guides...). But these are often expensive solutions.
What if home exchange was an affordable solution for going on vacation when you are a person with reduced mobility?
Home exchange: a practice with many advantages for people with reduced mobility
Home exchange is economical
Home exchange is the ideal solution for finding low-cost accommodations, especially when you use a wheelchair. House swapping provides significant savings on the most important item of your travel budget: accommodation. With the money you save, you can afford to go out to restaurants, do sightseeing and enjoy local excursions.
Home exchange is convenient
Thanks to home exchange, you have the advantage of being welcomed as if you were at home by members of the community, and of living in a house fully equipped just for you, adapted to your needs as a person with reduced mobility: you will find 45,000 adapted homes on the platform. You will be able to cook good local products in your host's kitchen, thus avoiding eating out at lunch and dinner. Looking for an apartment in the city center? A house not too far from the city?  A garden? You're bound to find the right accommodation on HomeExchange!
Home exchange is authentic and friendly
Being hosted by a member of the community is an opportunity to discover a city and its culture "from the inside", and to live like a local for a little while. Thanks to advice from your hosts, you will also benefit from helpful tips for your outings, and names of restaurants with local cuisines far from the tourist places. The practice of home exchange is based on trust and sharing.
HomeExchange: adapted housing for people with reduced mobility
Many members of the HomeExchange community are becoming more and more involved in welcoming people with disabilities, with 45,000 adapted homes. Whether in France, Europe or further afield, if you dream of a vacation in the countryside, the mountains, a city trip or off the beaten track, home exchange is the ideal solution.
HomeExchange has set its mission to making vacations accessible to all, and facilitating the booking of vacations for people with special needs.
Testimonials from HomeExchange community members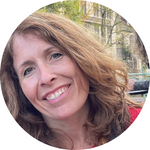 Testimony of Guillemette, more than 40 exchanges under her belt
Guillemette, who uses a wheelchair, a member of the community since 2016 with more than 40 exchanges under her belt, shares with us her experience of home exchanges, and gives us her advice on how to make home searches easier with HomeExchange:
"My most memorable exchange was in Montreal! I love going on vacation with HomeExchange because they provide great conversations with fellow exchangers,  there's life,  and you can exchange in places you weren't expecting, and all are homey and not stiff and sterile! The criteria that I look at first are the bathroom, does it have a walk-in shower? Is the apartment on one level? Is the entrance easy to reach? Can a wheelchair get around the accommodations?"
"I advise hosts to describe their home well, and to post photos of all the rooms, as well as the exterior."
"If I had to give advice to future home swappers, it would be to exchange face to face with the hosts, and not to hesitate to start: people are kind and listen. No matter what the needs are, we always find a solution! Just be patient to find the housing that corresponds to your personal needs".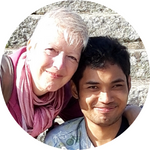 Testimony of Patricia and Tim, more than 10 exchanges to their credit
Patricia has been a member of HomeExchange since 2009 and often travels with her son Tim who is in a wheelchair. Patricia has completed over 30 exchanges, 10 of which were with her son. Both share their experiences and advice:
"Our most memorable exchange together was in New Zealand, where we met two families and shared some great times! We love HomeExchange because we meet great people. It's a community where trust reigns. We especially like reciprocal exchanges, welcoming people in hospitality and getting to know them. What we look for first is the destination! Then we look for easy access to stores for food shopping, as well as tourist activities. Of course, the access to the accommodation is very important.  It must be on one level or have an elevator. We also pay attention to the width of the doors, especially for the bathroom! An Italian shower is better in terms of practicality, but if not, we can put a chair in the shower, and we manage!"
"My advice to new exchangers is to never hesitate from contacting the person who is going to come and stay at your house, ask questions to better identify their needs, and see if there are any necessary arrangements to be made before their arrival. Sometimes the guest doesn't dare to ask for these kinds of things so they aren't a bother. If it comes from the host, it takes some of the pressure off."
"If I had to give another piece of advice for people with mobility impairments who want to go on a home exchange, I would say don't hesitate to ask for details from their host who may not be aware of what accessibility of a home means."
"It takes some investigative work to find the right home, but the hosts are very available to help, so we've never had a bad surprise!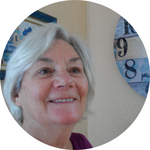 Testimonial from Suzanne, 64 exchanges under her belt!
Suzanne is a HomeExchange member with limited mobility. She was in a wheelchair for a short time, and can now walk but still has difficulty climbing stairs. She shares her experience:
"My most memorable home exchange was in Iceland in 2017 with a friend. We were very welcome in a single-story house. I am 76 years old and was in a wheelchair for 3 months. I had my house built and worked with the architect to meet the accessibility standards: single level house, no stairs, minimum passageways of 90cm wide. Even though I am no longer in a wheelchair, I am still a person with reduced mobility because I cannot climb stairs. I love HomeExchange because I really like the trust between hosts and guests."
"The criteria I look for first when considering a home exchange are that there are wide doors, no stairs, and a bathroom with a walk-in shower."
"Here are my tips for guests, based on my time in a wheelchair. See that the doors and patio doors be at least 93 cm wide, that's really a priority.  Bathrooms and toilets can be adapted. Check whether a wheelchair can turn in all the rooms of the house (minimum 90 cm), and finally, note if access to the garden or the terrace is easy. If there is a small threshold, we manage; it's not embarrassing!"
Searching for a home adapted for people with reduced mobility on HomeExchange: how does it work?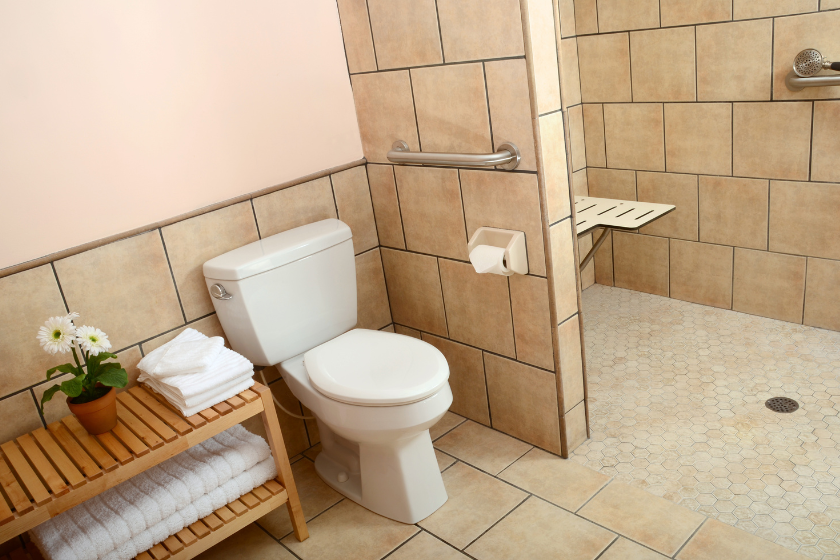 Create your ad and complete your profile
The creation of your ad is totally free. Complete your profile, introduce yourself and indicate your favorite destinations. Showcase your house or apartment by adding beautiful photos.
The important part is to indicate in your ad all the equipment and facilities you have to accommodate people with reduced mobility such as:
Ground floor or elevator
Dimensions of passageways and doors
Large spaces to move easily in a wheelchair
Presence of handles (bathroom and toilet)
Open kitchen
Walk-in shower
Easy access to the yard or garden
Gate or garage with automatic opening
...
Use the "disabled access" search filter
Thanks to the simplified search filter "Disabled Access", you have access to accommodations with facilities and equipment adapted to people with reduced mobility for your next vacation. Exchanging homes with a person or family who is also concerned about disability ensures that your accommodation will meet your needs. And if you can't find a reciprocal exchange, HomeExchange offers a lot of flexibility by offering exchanges for GuestPoints.
To make sure that the filters are reliable, we inform hosts about the requirements for accommodating people with disabilities.
Exchange with your hosts
Interacting directly with the hosts will allow you to verify that the accommodation meets all your needs and is adapted to your disability. You will also be able to find out exactly how the house is set up and plan your vacation accordingly.
HomeExchange is a community based on trust and sharing, so communication is essential for hosts and guests to get to know each other. Your hosts will also be happy to provide you with information about activities in the area that are suitable for people with reduced mobility.
Finalize your home exchange and join the community
Only once you and your host have agreed on your exchange and you have validated all the details, you will then subscribe to the annual membership for 12 months of unlimited exchanges, including guarantees.
You'll be joining a community of over 100,000 members, and whether you're a host or a guest, you'll have the assurance that the HomeExchange team is with you every step of the way.
Discover HomeExchange
🙏
Many thanks to Guillemette, Patricia, Tim and Suzanne, who have kindly agreed to share their precious testimonials with us.